When running promotions on your online store, it's common to want to run different types of discounts simultaneously. For instance, you may have a discount code that you want customers to be able to redeem alongside your BOGO offer. While this can often be a great strategy to increase sales, it's important to understand the process and limitations.
Generally speaking, Shopify only allows one discount at a time to be active in the checkout. However, Ultimate Special Offers includes a feature which allows customers to combine your offers with certain types of simple Shopify discount codes. This is a delicate process with limitations, so this guide is here to show you the best ways to use this feature and allow your customers to get the most out of your promotions.
How are discounts combined?
Since only one discount code is allowed to activate in Shopify's checkout, our app combines discount codes and offers on the cart page. When you've enabled the setting within the app to allow discounts to be combined, the app will show a discount code box on the cart page when customers have activated one of your offers.
It's not possible to show the discount code box from Ultimate Special Offers if an offer isn't active in the cart. If no offer is active in the cart, customers can enter Shopify discounts in the default discount code box in the checkout.
When a customer enters a discount code in this box while an offer is active, the app will check the discount code, add it together with the offer, then create a new combined discount code which is then carried over into the checkout. By combining the two discounts into a single unique code, only one discount code is used in the checkout. This way, we stick to Shopify's rule of one discount at a time.
Combining discounts like this is a complicated process, and only simple percentage or fixed amount Shopify discount codes will work. If more complex discounts like Automatic discounts, Shopify Buy X Get Y discounts, or Free Shipping discounts are used, the discount code won't pass the checks done by the app on the cart page and the discount won't be combined with the offer.
Customer experience
While offering a variety of discounts to your customers can be a great way of incentivizing orders and creating repeat customers, make sure you're also taking into account what the customer experience is like when taking advantage of your promotions. In our experience, streamlined promotions where customers can redeem offers in as few steps as possible work the best!
After trying some types of promotions, you may find certain customers prefer not having to remember a discount code they need to enter alongside automatic offers. If you find that's the case, another solution is to simply run different combinations of offer types within Ultimate Special Offers that activate automatically for your customers. For instance, you could create a Discount offer on certain products complemented by a Bulk offer. You may find that creating complimentary offer combinations provides a better conversion rate than a manual discount code combined with an offer!
Remember: simplicity is key. We recommend running combinations of no more than 2 offers at a time for best performance. A great method is to come up with different pairs of offers that work well together and cycle through them for different promotions throughout the year. If you have multiple offers that are running independently and targeting different collections, running more than two is just fine.
That being said, every shop is different and it's always in your best interest to try out different promotion structures. If you want to try creating discount codes that your customers can combine with your offers, keep reading for some tips.
Creating a discount code in Shopify
Simple percentage or fixed amount discount codes work best when combining discounts with offers from your app. To create a discount code like this, go to the Discounts page in your Shopify admin, click Create discount, then select Discount code.
Click here for more information on creating percentage or fixed amount discount codes in Shopify.
Enable the setting in your app
In your Settings page within Ultimate Special Offers, enable the setting to Let customers use a discount code with Ultimate Special Offers. When this setting is enabled, the app's discount code box will show on the cart page when an offer is active allowing customers to enter one of the discount codes you created in your Shopify admin.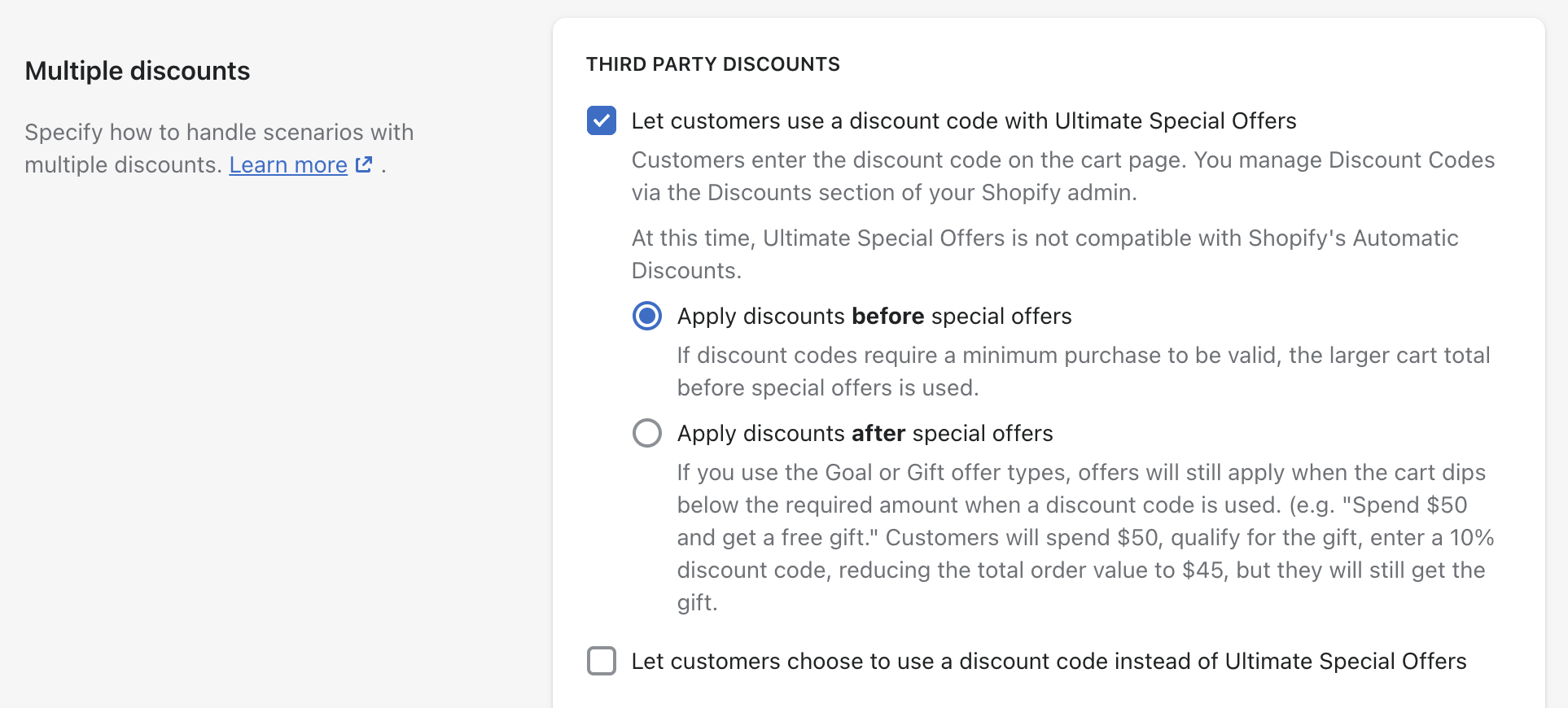 In your settings, you can also control whether your discount code is applied before or after your offer, and you can choose to allow customers to use a discount code instead of an offer. If this setting is enabled, the same discount code box from the app will show on the cart page when an offer is active, but the discount code entered into the box will replace the discount from the offer rather than being combined.