The pricing in this article applies to installs on or after February 22, 2023.
Ultimate plan
With the Ultimate plan, your fees are based on your order volume. You start with a $9/month subscription fee, and the app charges a 1% usage fee on orders that include offer discounts or upsells. This means your Shopify invoice will vary month to month depending on how many orders you've received with help from the app.
Usage fees have a $10 cap per order.
On your account page, you can see a breakdown of your usage fees for your current billing cycle. In the Discounted orders column, the number of orders with a discount or upsell from Ultimate Special Offers is displayed. In the Charges column, you can see your total usage fees so far for your current billing cycle.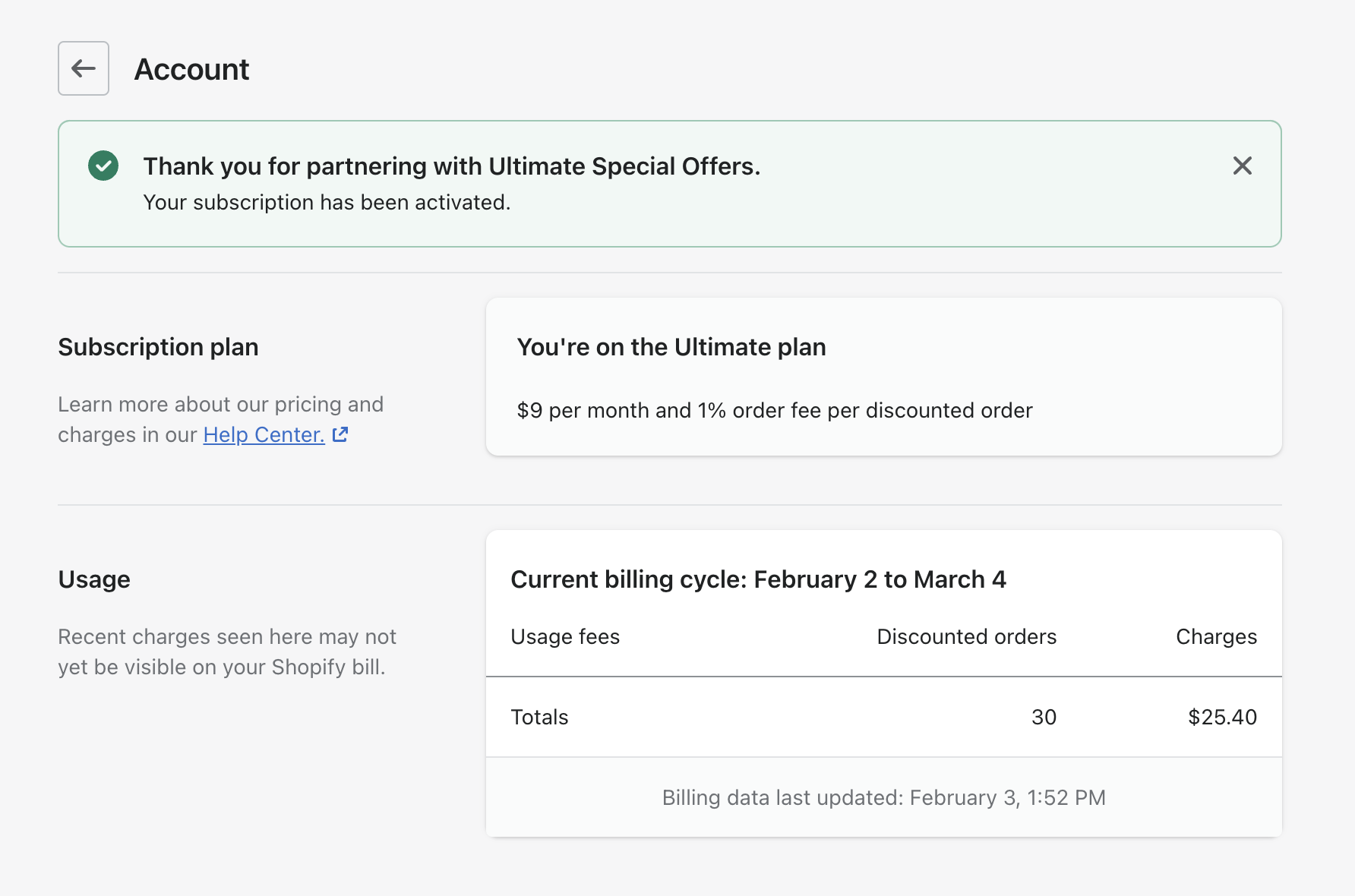 In the screenshot above, this shop has used Ultimate Special Offers on 30 discounted orders and has $25.40 in charges so far during their billing cycle.
Billing cycles
Shopify invoices are charged on a fixed 30-day billing cycle that's established when you first set up your Shopify account. However, app billing cycles are charged on a separate 30-day cycle based on the date you subscribed to the app.
Once an app's billing cycle is established, charges from that app are billed on the following Shopify invoice. In the example diagram below, a Shopify billing cycle is shown in red and an Ultimate Special Offers billing cycle is shown in blue.

The maximum charge from Ultimate Special Offers in a single 30-day billing period is $508. This is your $9 subscription fee plus a maximum of $499 in usage fees. However, since Shopify billing cycles and app billing cycles are separate, you may see usage charges from two billing cycles in a single line on your invoice. This can result in a larger number than you may be expecting, but don't be alarmed! In rare cases where you see numbers greater than $508, this represents how much was charged over two separate 30-day billing cycles.
Legacy billing plans
If you installed the app before February 22, 2023, you'll be on one of our legacy billing plans. Click here for more information on legacy billing plans.