Offer reporting helps you keep track of the sales you've made with Ultimate Special Offers on your online store so that you can track the performance of your offers and optimize them to increase your sales.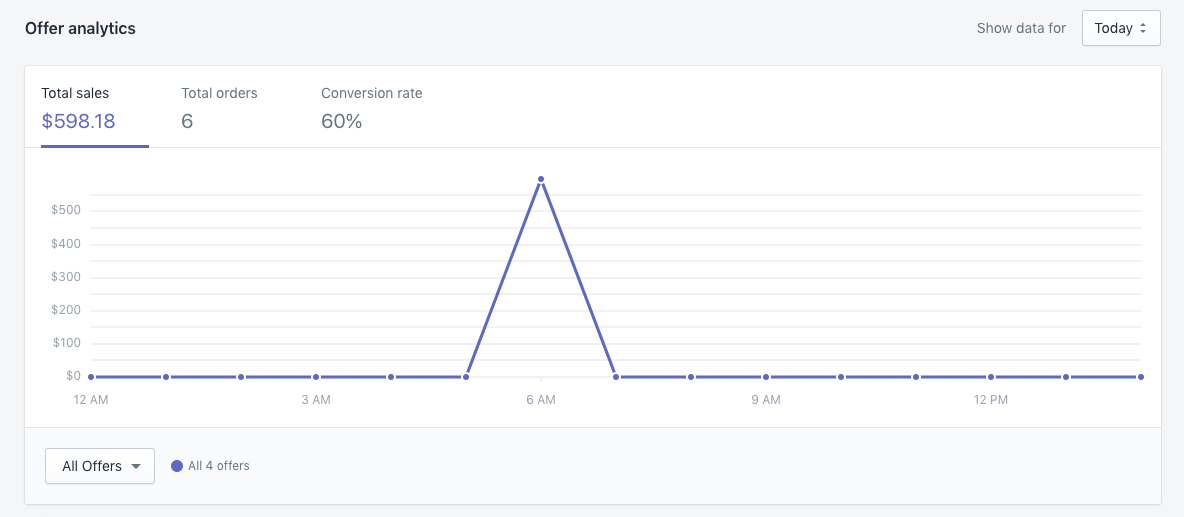 Here's some terminology you may want to familiarize yourself with:
Total sales: Total sales shows the total value of all orders that include special offers so that you can see how much money you are making with Ultimate Special Offers online. Total sales includes data from deleted offers as well as data for Upsell offers.
Total orders: Total orders shows the number of orders that have been made in your store with one or more special offers included. Total orders includes data from deleted offers as well as data for Upsell offers.
Conversion rate: Your conversion rate measures how many of your visitors are turning into buyers as a result of your offers. This is represented by the percentage of checkouts that contain an offer.
In-offer reporting: Next to each offer you've created, you'll see a breakdown of the number of orders per offer as well as the total sales per offer.
Data for the Post-Purchase offer will only be displayed within the in-offer reporting and not within the graph
Overview
In your dashboard, you'll see a graph that displays the past 30 days of data from all online offers combined. Hover over any date to see the total sales and total orders made on that day.
Need to take a closer look at specific offers?
Select up to 3 offers from the dropdown menu to display each offer as a separate line in the graph so that you can compare their performance. It's a great way to see what offers are working well for your business and which offers need improvement so that you can make informed decisions when marketing your promotions.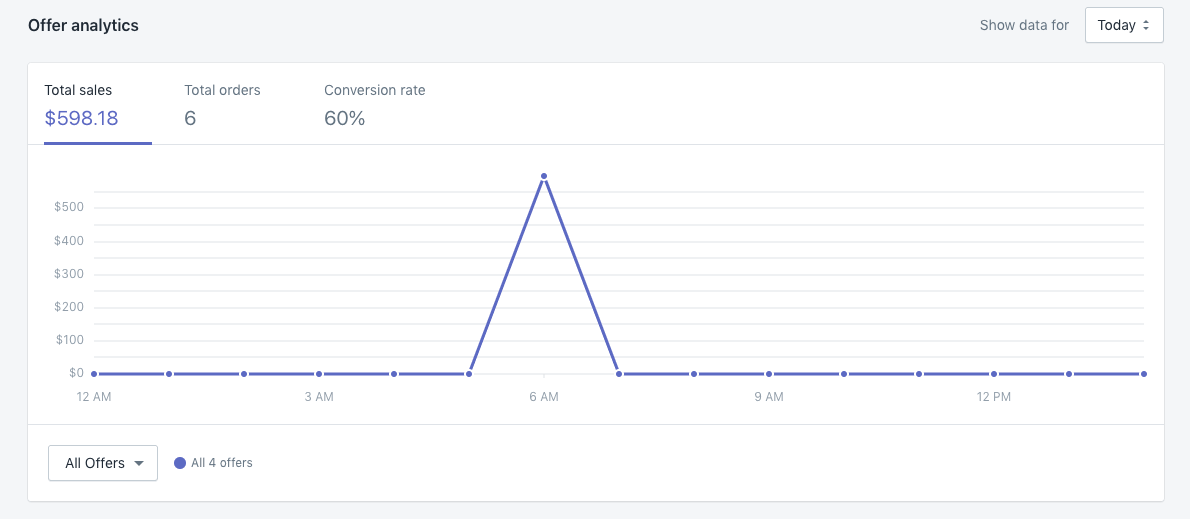 If you choose more than 3 offers, you will see a single line appear in the graph that represents the combined sales and orders of the selected offers.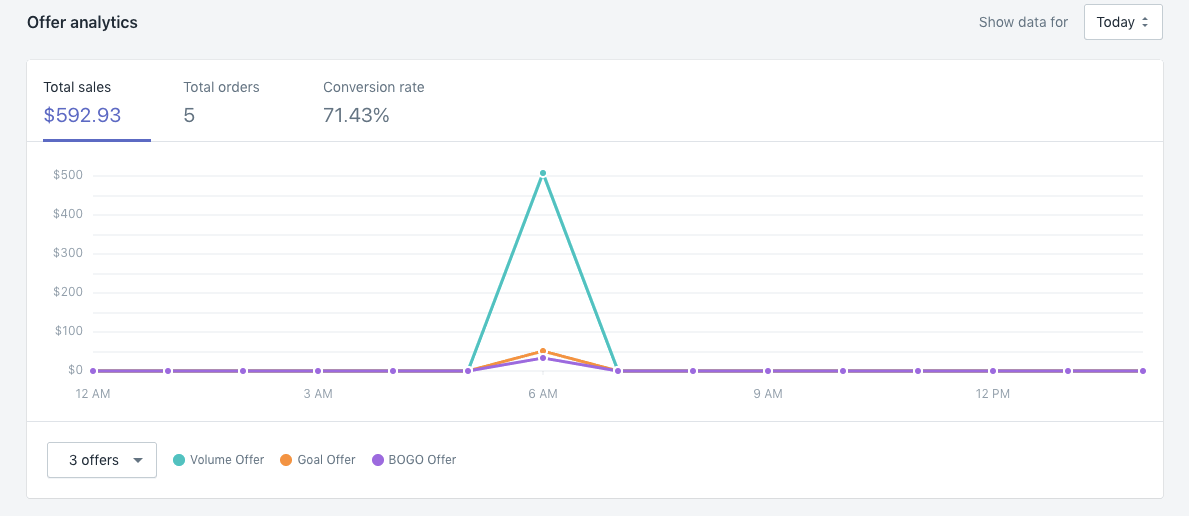 Conversion rate
Offer reporting also lets you monitor your conversion rate! This is an important metric that measures how your offers are helping convert visitors into customers. It represents the number of checkouts that contain an offer.
Your conversion rate is displayed in two places: in your offer analytics graph at the top of your dashboard and in your offer list, next to each offer. Here's an example of what your offer analytics graph might look like: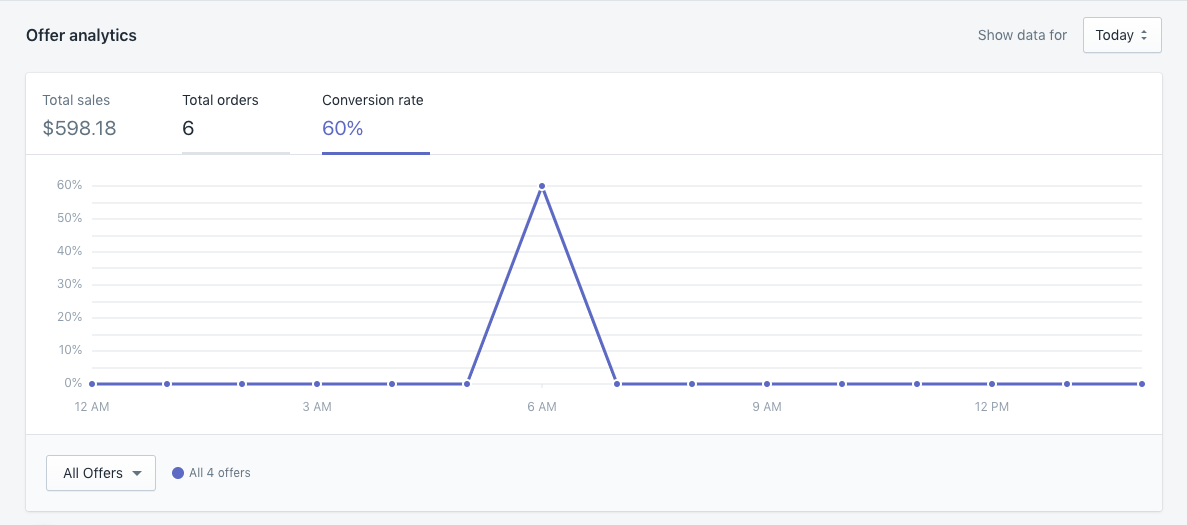 Using the drop-down filter below the graph, you can select which offers' conversion rates are represented. The percentage represents the number of carts with special offers that have converted to sales in the past 30 days.
You'll find the same data displayed below, next to each offer, along with total sales and orders.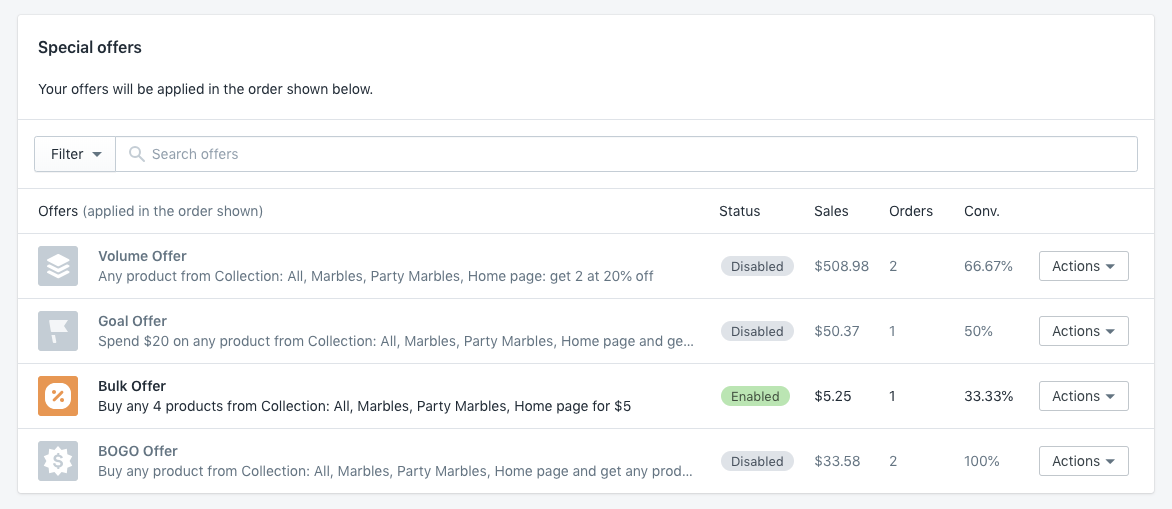 Date range
You can also change the date range so that you can evaluate data from today, yesterday, the past 7 days, or the past 30 days. When you select the date range, all figures in the app dashboard will change to reflect the date range in question, including the total sales and total orders seen in your in-offer reporting.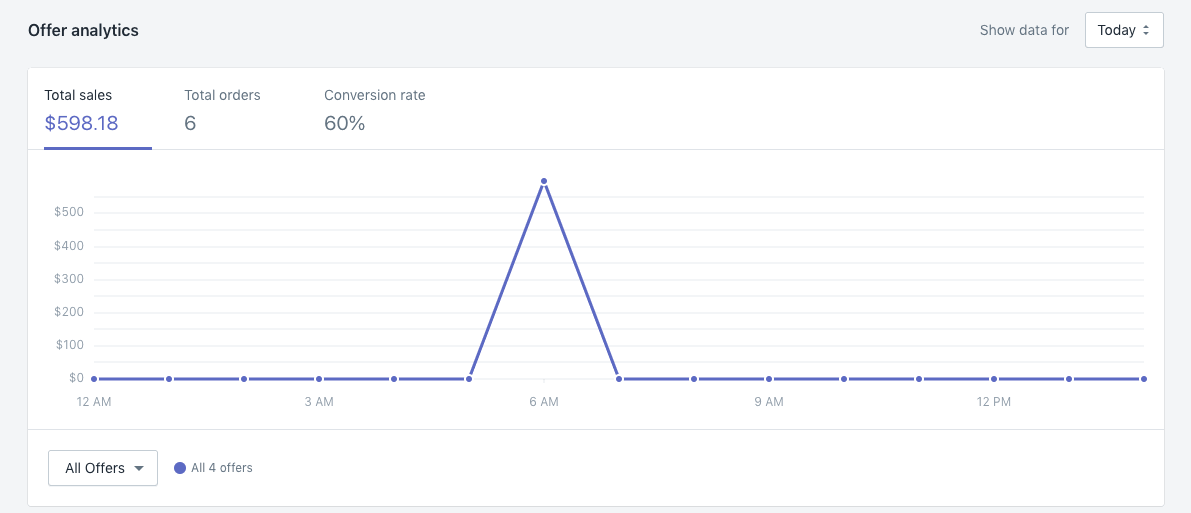 In-offer reporting
You can also make use of the handy in-offer reporting feature by searching for an offer by name or by offer type.
If you are running different offer types as part of the same campaign, include the campaign name in the offer name to make it easy to look at all relevant offers at once. If you need to re-name an offer that has already been created, select Edit from the Action menu next to the offer you want to rename.