The Post-Purchase Upsell offer lets you promote additional or complementary products immediately after checkout with an optional discount.
Name your offer, set up the offer, and then edit your offer messaging to provide this offer to your merchants. Then consider the limitations to using the Post-Purchase Upsell offer and best practices to use this offer type effectively.
Check out the video below for an overview of this offer type, and keep reading for step-by-step instructions.
Step 1: Name your offer
Each offer requires a Name before you can save, so use the provided field to add a title for the offer. Later on, you can search for this name among your other offers for quick access.
Step 2: Set up the Post-Purchase Upsell offer
Trigger
Set the product (or products) that need to be added to the cart to activate the offer. You can choose a single product/variant, choose multiple products/variants individually, or choose collections.

Offer
Choose products or variants to promote post-purchase when trigger items are included in the original purchase. Eligible customers will see your Post-Purchase Upsell offer after completing the payment stage of the checkout.
Only one Post-Purchase Upsell item can be shown in the checkout at once. If you target multiple offer products, one will be selected at random and shown in the checkout.

Discount
Select a discount to offer using the Choose discount dropdown. There are two different options when setting your discount:
Discount amount: Set a dollar-based discount for the offer. Example: Add a tote bag to your order for $5 off.
Discount percentage: Set a percentage-based discount for the offer. Example: Add a tote bag to your order for 25% off.
To promote a Post-Purchase Upsell item without a discount, simply enter "0" in the discount amount field.

From our blog:
"You don't have to offer a discount on your upsell, but it helps the customer make that immediate purchase."
Read more
Step 3: Choose your offer messaging
In the Initial message dropdown menu, choose a message that suits your offer.

If you've targeted specific variants in your offer, make sure this is reflected in your messages.
Step 4: Select Ultimate Special Offers in your checkout settings
In your Shopify admin, go to Settings > Checkout and select Ultimate Special Offers to enable your Post-Purchase Upsell offer. If you have other post-purchase apps installed, you can use this setting to choose which to activate.
Only one post-purchase app can be activated at one time.

The Post-Purchase Upsell will appear after customers complete the payment phase of the checkout. Once the order is completed, a single order containing the original purchase and the Post-Purchase Upsell item is created in your Shopify admin.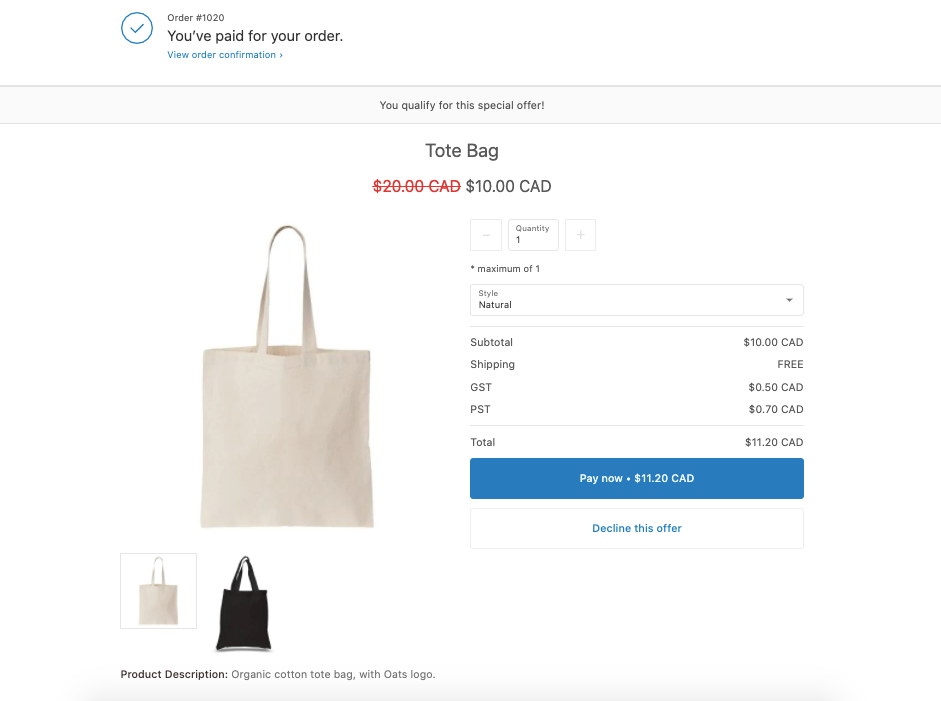 At this time Shopify Plus users must use the standard checkout. Customized checkouts will not work.

Third-party payment gateways are not compatible with the Post-Purchase offer. For the Post-Purchase Upsell offer to apply, customers must pay for their order using Shopify Payments.

Manual payments (such as bank deposits and cash on delivery) are not supported.

Accelerated checkouts/wallets like Shop Pay, PayPal, Apple Pay, Amazon Pay, and Google Pay are not supported. Payment methods like Klarna, Afterpay, and Affirm are also unsupported.

Post-Purchase Upsell offers will not work with subscription items.

Post-Purchase Upsell offers will not work with automatic fulfillment enabled.

Post-Purchase Upsell offers will only work when the total in the checkout is greater than $0.
Best practices
Your success is our #1 priority. Tell us how we're doing by writing a review.